Study the interaction of hydrophobic vitamins (vitamin E and vitamin D) with HSA using Spectroscopic techniques
| | | |
| --- | --- | --- |
| dc.contributor.author | Abu Teir, M. M | |
| dc.contributor.author | Abu Awwad, I. | |
| dc.contributor.author | Abu-Hadid, M. M. | |
| dc.contributor.author | Darwish, S. M. | |
| dc.date.accessioned | 2018-09-10T18:16:51Z | |
| dc.date.available | 2018-09-10T18:16:51Z | |
| dc.date.issued | 2014-06-25 | |
| dc.identifier.issn | 0975-833X | |
| dc.identifier.uri | https://dspace.alquds.edu/handle/20.500.12213/885 | |
| dc.description.abstract | The interaction of hydrophobic vitamins (vitamin E and vitamin D) with human serum albumin(HSA) at physiological (pH 6.9- 7.4) has been studied using UV-VIS spectrometer, and an FT-IR spectroscopy. The interaction of hydrophobic vitamins (vitamin E and vitamin D) with HSA has been investigated by using UV-absorption, and Fourier transforms infrared (FT-IR) spectroscopy. The binding constants of vitamin E and vitamin D have been determined by UV-absorption. The values of the binding constants are calculated at room temperature: (1.21×102M-1) and (6.8×101M-1) for vitamin E- HSA and vitamin D- HSA mixtures, respectively. FT-IR spectroscopy with Fourier self- deconvolution technique and second derivative resolution enhancement procedures were applied in the analysis of the amide I, amid II, and amid III regions to determine the protein secondary structure and hydrophobic vitamins binding mechanisms. All peaks positions in the three amide regions (amid I, amide II and amide III) have been assigned and any changes due to concentration changes have been investigated. The FTIR spectra measurements indicate a change in the intensity of absorption bands due to change in the concentrations in drugs. In addition a larger intensity decrease in the absorption band of α-helix relative to that of β-sheets has been observed. This variation in intensity is related indirectly to the formation of H-bonding in the complex molecules, which accounts for the different intrinsic propensities of α-helix and β-sheets. | en_US |
| dc.description.sponsorship | This work is supported by the German Research Foundation DFG Grant No. DR228/24-2. | en_US |
| dc.language.iso | en_US | en_US |
| dc.publisher | Quality Scientific Publishing | en_US |
| dc.title | Study the interaction of hydrophobic vitamins (vitamin E and vitamin D) with HSA using Spectroscopic techniques | en_US |
| dc.type | Article | en_US |

Files in this item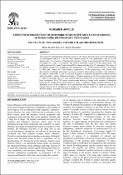 Name:

RES_119_JOURNAL_paper_4.pdf

Size:

828.6Kb

Format:

PDF
This item appears in the following Collection(s)
AQU researchers publications [896]
AQU researchers publications
Biophysics Research Laboratory [16]
The biophysics lab has been established at Al-Quds University in 2005 with a generous fund from the DFG of the Federal Republic of Germany. The lab has supported several research students in the fields of physics and biology; several of whom are currently finishing their Doctorates degrees in Germany and the U.S. The research lab provides services to students and faculty members in the physics, biology, chemistry, and environmental science programs, in addition to an open cooperation with the college of medicine, pharmacy and the Nanotechnology center.